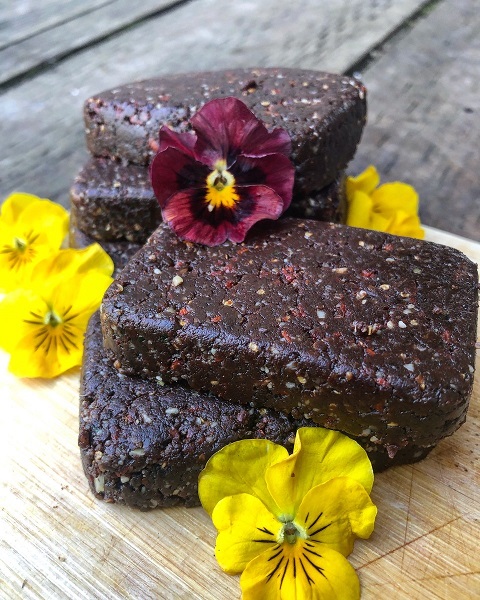 Fuel your summer adventures! These bars are packed with energy boosting and nutrient rich ingredients.
Yield: 8 bars
**Each bar has 15mg of full spectrum CBD and a dose of ashwagandha to help modulate inflammation and balance stress hormones during times of peak activity

Ingredients:
1 cup walnuts
1/4 cup hemp seeds
1/4 cup cacao powder
3 TBSP pumpkin seeds
3 tsp. ashwagandha powder
1/4 tsp. pink rock salt
1 cup medjool dates
1/3 cup goji berries
2 TBSP coconut nectar
6mL of Sweet Orange Liquid Ease in a 600mg bottle.This is a total of 120mg of CBD, which, divded amongst 8 bars will provide 15mg of CBD to each bar.
Directions:
Add the first 6 ingredients (walnuts, hemp seeds, cacao powder, pumpkin seeds and ashwagandha power) to a food processor. Blend for about 15-20 seconds or until seeds and nuts are finely chopped. Add remaining 4 ingredients (medjool dates, goji berries, coconut nectar and Liquid Ease). Blend for several minutes until the mixture is very well incorporated and begins to stick to the sides of the food processor. Divide mixture into 8 equal parts and form bars. To make it easy, press each bar into the sections of a silicone mold or press the entire mixture into the bottom of a baking pan and slice into 8. Refrigerate for 2 hours. Enjoy!
Silicone Mold Link:
https://www.amazon.com/Freshware-CB-105RD-12-Cavity-Cornbread-Cheesecake/dp/B003VFWWWU/ref=sr_1_44?keywords=silicone+molds+bar&qid=1578348864&sr=8-44