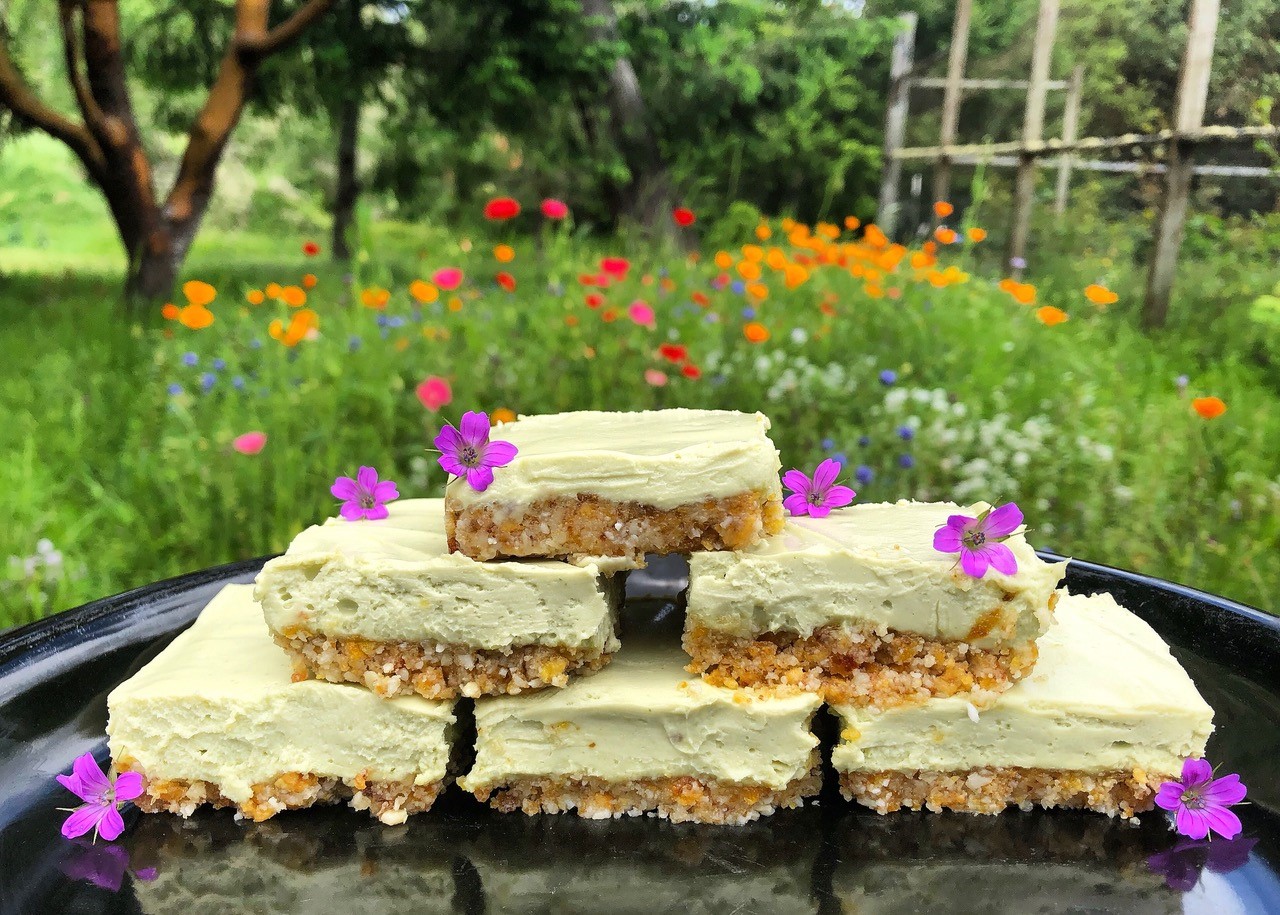 Bright, creamy, tangy and sweet, these vegan cheesecake squares are the perfect summertime treat.
Yield: 16 bars
**Each bar contains 10mg of full spectrum CBG

Ingredients:
Crust:
-1 ½ cups raw macadamia nuts
-1/2 cup shredded coconut
-A pinch of sea salt
-Approx. 1 cup (85g) of dried pineapple (We recommend Made in Nature brand)
-6 medjool dates, pitted
-2 TBSP coconut butter
Filling:
-1 medium avocado
-1 ½ cup cashews, soaked overnight and drained
-1/2 cup coconut oil, melted
-2 tsp. lime zest
-1/3 cup freshly squeezed lime juice
-3 TBSP maple syrup
-1/4 tsp. liquid stevia or an additional 2-3 TBSP maple syrup (If using liquid stevia we recommend Now Foods Better Stevia Glycerite)
-1/2 tsp. vanilla extract
-2 pinches of sea salt
-8mL Pure Hemp CBG Liquid Ease from a 600mg bottle. This is a total of 160mg of CBG, which, divided amongst 16 bars will provide 10mg of CBG to each bar.
Directions:
Grease an 8x8 square pan with coconut oil.
For the crust:
Add macadamia nuts, shredded coconut and sea salt to a food processor. Process until macadamia nuts are finely chopped. Add dried pineapple and dates. Process again until the mixture sticks together very well (so much so that it sticks to the sides) and is no longer spinning in the food processor. Remove mixture and press evenly into the bottom of the 8x8 pan. Cover the pan and place it in the freezer while you make your filling.
For the filling:
Add all of your ingredients – avocado, cashews, coconut oil, lime zest, lime juice, maple syrup and/or stevia, vanilla extract, sea salt and Liquid Ease CBD oil to a high powered blender. Blend until very smooth.
Take your crust out of the freezer. Pour the filling over top the crust and even out with the back of a spoon. Cover and place back in freezer for 1-2 hours. Afterwards, move your squares to the fridge for an additional 3-4 hours.
Slice and enjoy! Serve cold.